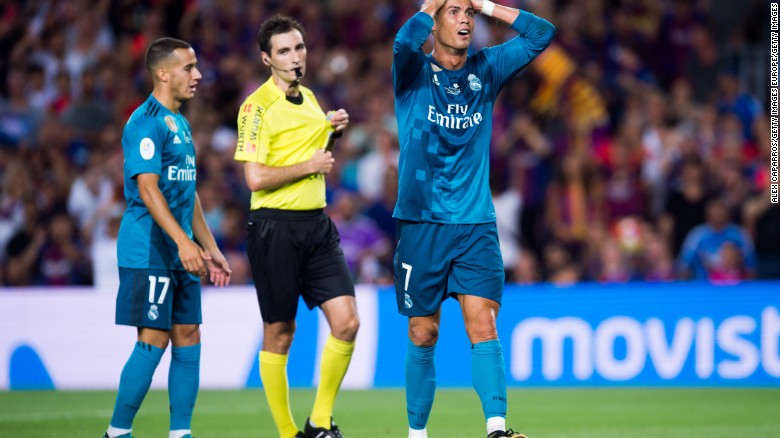 Ronaldo was red carded during a Spanish Super Cup clash between Real Madrid and Barcelona
Cristiano Ronaldo has been banned for five games following his red card in Real Madrid's 3-1 victory over rival Barcelona, the Spanish Football Federation confirmed Monday.
The forward received two yellow cards in this season's first El Clasico, the first after removing his shirt to celebrate scoring, and the second for supposedly diving in the Barcelona box.
On top of the one-game ban for the red card, Ronaldo will miss four further games for pushing referee Ricardo De Burgos Bengoetxea as he left the field.
Real had appealed, but on Wednesday the Royal Spanish Football Federation (RFEF) appeals committee upheld the ban.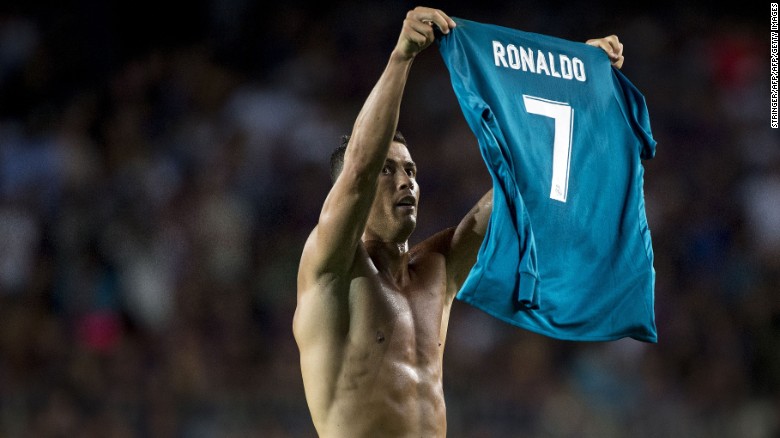 Ronaldo, as Messi did a few weeks ago, raises his shirt to the crowd after scoring.
Madrid wins despite Ronaldo red
Ronaldo had quite the eventful game Sunday, scoring a stunning goal, celebrating topless, and then the red card -- all in just 23 minutes after coming on as a second-half substitute.
The hotly-contested Spanish Super Cup clash, which pitted last season's La Liga champions against the winners of the Copa del Rey, had four goals in an action-packed second half.
Gerard Pique slid Marcelo's cross into his own net to give Madrid the lead.
Ronaldo got on the scoresheet when he curled a shot past Marc-André ter Stegen shortly after Lionel Messi had equalized from the penalty spot for the hosts.
The Portuguese was subsequently booked for taking his top off -- supposedly mimicking a Messi celebration from last season's El Clasico -- and minutes later received a second yellow when he was adjudged to have dived in the Barcelona penalty area.
"We played a great game but I am annoyed by Cristiano's sending-off,"
said Real coach Zinedine Zidane.
"Perhaps it wasn't a penalty but the red card is a little harsh."
A superb 25-yard strike from Marco Asensio ensures Madrid goes into Wednesday's second leg at the Bernabéu with a two-goal advantage.
Neymar finds his feet
While Barcelona adjusts to life without Neymar, the Brazilian took little time getting acclimatized to France's Ligue 1 as he made his much-anticipated debut for Paris-Saint Germain.
He was instrumental in PSG's 3-0 victory away at Guingamp, feeding Edison Cavani with a precise chip for his side's second goal before tapping in for a score of his own in the closing stages.
There was speculation over whether Neymar would be eligible to make his debut so soon after his $263 million world record transfer.
Advertisement - Call: 08084469599
To Feature Here (Call: 08099554484) - Artist of the week

All rights reserved. This material and any other material on this platform may not be reproduced, published, broadcast, written or distributed in full or in part, without written permission from IREPORTER NEWS NETWORK.
Do you want to write for us? If "YES", CLICK HERE TO REGISTER. To have an article/iWitness content published on our platform, email: ireporterng@gmail.com
---
Socialize With Us On:
Twitter:
@iReporterNG
Facebook:
@iReporterNG
Vimeo:
@iReporterNG
Dribbble:
@iReporterNG
Youtube:
@iReporterNG
Google Plus:
+iReporterNG
BBM Channel Pin:
C00224051