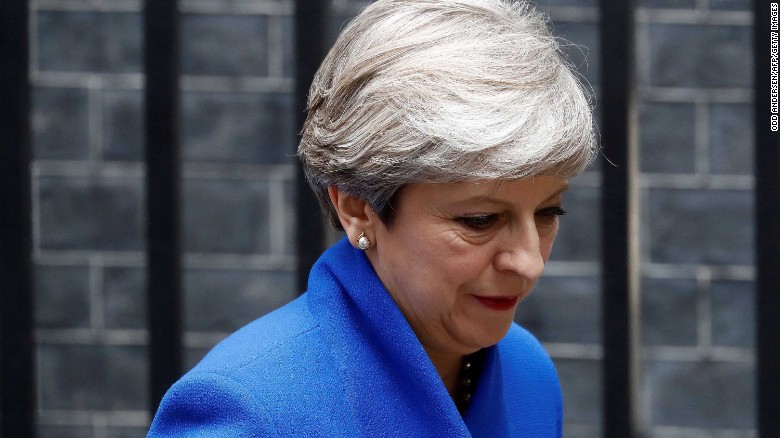 London (CNN) UK Prime Minister Theresa May was clinging to power by her political fingertips on Sunday after losing her parliamentary majority in last Thursday's election, as an agreement with the minority Democratic Unionist Party that would keep the Conservatives in power was still not finalized.
May's co-chiefs of staff, Nick Timothy and Fiona Hill, handed in their resignations on Saturday following the disastrous election. The vote was called by May to strengthen her position ahead of talks to leave the European Union, in the end it left her weakened.
Both Downing Street and the DUP issued statements late Saturday saying talks over a deal to prop up the government would resume next week amid concern among more liberal Conservatives about May hitching her wagon to the right-wing Northern Irish party. Earlier, Downing Street had said a preliminary agreement had already been secured.
The DUP is similar to the "religious right" in the United States and takes a hardline stance on social issues, such as same-sex marriage and abortion.
Continue reading
Source: CNN
Advertisement - Call: 08102160223
To Feature Here (Call: 08099554484) - Artist of the week

Do you want to write for
iREPORTER NEWS NETWORK

or have an article you want published? It's now easy. Post your articles and news stories here, your story will be reviewed and published. Report NEWS as its UNFOLDS and

JOB RECRUITMENT SCAMS

here, help us keep our labour market clean. To submit your post CLICK HERE

Socialize With Us On:


Twitter: @iReporterNG
Facebook: @iReporterNG
Vimeo: @iReporterNG
Dribbble: @iReporterNG
Youtube: @iReporterNG
Google Plus: +iReporterNG
BBM Channel Pin: C00224051