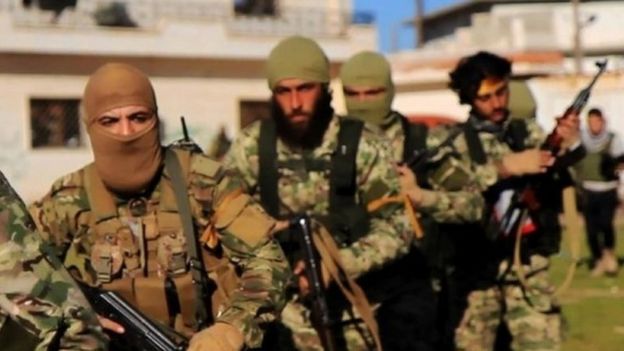 The US is trying to spare a jihadist group in its attempts to unseat Syria's President Bashar al-Assad, Russia's foreign minister has told the BBC.
Sergei Lavrov said the US had broken its promise to separate the powerful Jabhat Fateh al-Sham (formerly known as al-Nusra Front) and other extremist groups from more moderate rebels.
And he defended the bombardment of Aleppo by Russian and Syrian forces.
Jabhat Fateh al-Sham is linked to al-Qaeda.
Mr Lavrov was speaking to Stephen Sackur on BBC World News TV on the first anniversary of the beginning of the Russian air campaign in Syria.
"They [the US] pledged solemnly to take as a priority an obligation to separate the opposition from Nusra," he said.
"They still, in spite of many repeated promises and commitments... are not able or not willing to do this and we have more and more reasons to believe that from the very beginning the plan was to spare Nusra and to keep it just in case for Plan B or stage two when it would be time to change the regime."
Read more
Advertisement - Call: 08102160223
To Feature Here (Call: 08099554484) - Artist of the week

Do you want to write for
iREPORTER NEWS NETWORK

or have an article you want published? It's now easy. Post your articles and news stories here, your story will be reviewed and published. Report NEWS as its UNFOLDS and

JOB RECRUITMENT SCAMS

here, help us keep our labour market clean. To submit your post CLICK HERE

Socialize With Us On:


Twitter: @iReporterNG
Facebook: @iReporterNG
Vimeo: @iReporterNG
Dribbble: @iReporterNG
Youtube: @iReporterNG
Google Plus: +iReporterNG
BBM Channel Pin: C00224051