---
Follow @iReporterng
---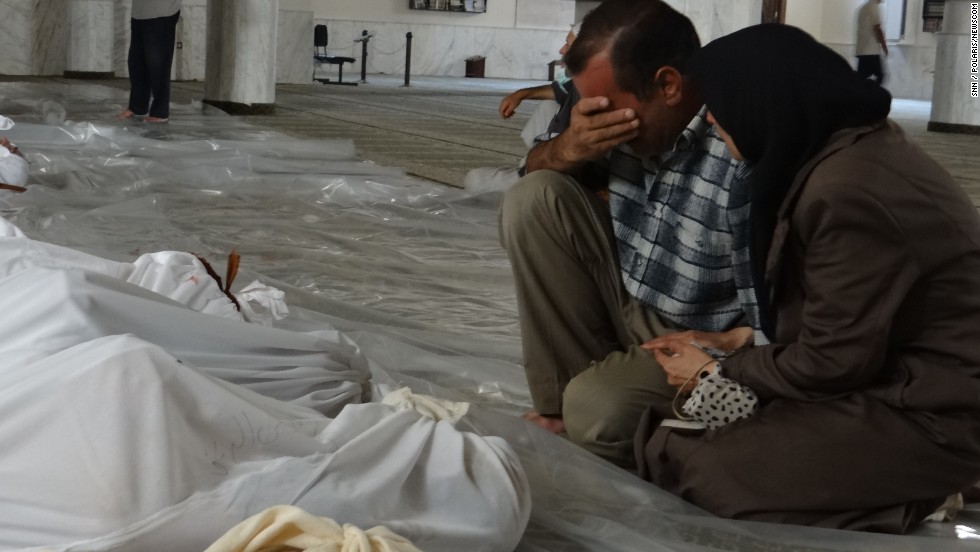 Two chemical gas attacks have been reported in northern Syria, one in the region where a Russian helicopter was downed a day earlier, killing all five people on board.
In the first alleged attack, cylinders suspected of containing chlorine gas were dropped in residential areas in the city of Saraqeb in Idlib province, the anti-regime, voluntary search-and-rescue group Idlib Civil Defence said in a statement posted to its Facebook page.
Russia, Syria's key military backer, has vehemently denied that a chemical attack took place. In a press release carried by Russian and Syrian state news agencies, Kremlin spokesman Dmitry Peskov said that the claims of chlorine usage were fabricated by the media.
In the second alleged incident, the Syrian government claimed that "terrorist groups" carried out a gas attack that killed five people in the old town of the besieged city of Aleppo on Tuesday afternoon, according to the state-run news agency SANA.
"Five civilians were killed and eight others suffered suffocation due to a terrorist attack with shells containing poisonous gas," the city's health director Mohamad Hazouri told SANA, which reported two others were killed and 17 others injured in separate terrorist attacks in the city Tuesday.
Aleppo is about 50 kilometers (31 miles) northeast of Saraqeb.
Reports of the alleged chemical attacks came as a CNN stringer in rebel-held eastern Aleppo said intense airstrikes and artillery assaults were under way in the area -- the fiercest bombardment in the five years of the conflict, he said.
The assault was a counteroffensive from Syrian regime forces and their Russian allies following advances by rebel forces pushing to break the government siege that has been choking their territory.
The city's eastern neighborhoods were completely encircled by government troops last week, cutting off all supply lines.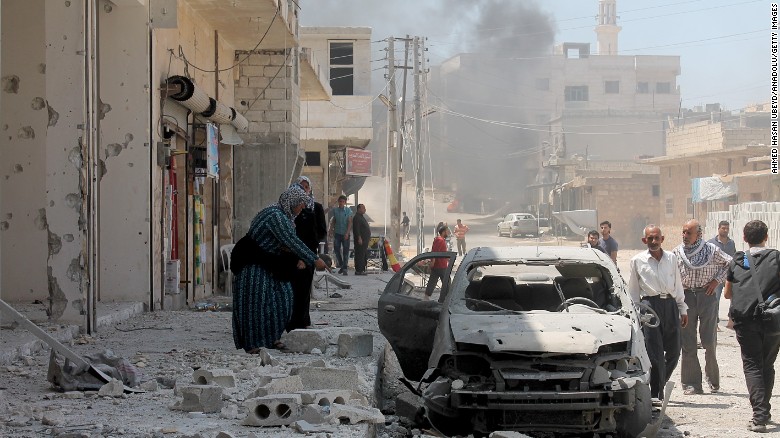 A woman inspects a damaged car after Russian planes carried out an airstrike over Etarib district of Aleppo, Syria.
Doctor: Symptoms of chlorine poisoning
In the Saraqeb attack, the gas, which the statement said smelled like chlorine, caused 30 cases of breathing difficulties, the Idlib Civil Defence -- also known as the White Helmets -- said.
CNN has spoken with a doctor in Saraqeb who said he treated some of those affected by the alleged attack, who said their symptoms were consistent with those "of someone who has suffered from chlorine poisoning."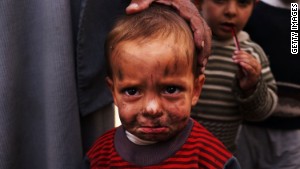 A photographer who took photos of the injured for the White Helmets told CNN victims were suffering symptoms such as watering eyes, spasms, sweating, coughing and difficulty breathing.
The Syrian National Council, a coalition of opposition groups, blamed the Assad regime for the alleged attack in Idlib province, where a Russian helicopter had earlier been downed after making what the Kremlin said was an aid delivery to Aleppo.
"Developments on the ground show how the Assad regime continues to blatantly ignore international law and UN Security Council resolutions, especially those related to the use of chemical weapons," the SNC said in a statement.
Continue reading ->
Source: CNN
What do you think? Post your thoughts in the comments below.
To Like our facebook fan page click iReporter on Facebook
Join Us on BBM Channel Add Pin or click:
C00224051
Report News as its UNFOLDS via: ireporterng@gmail.com