---
Follow @iReporterng
---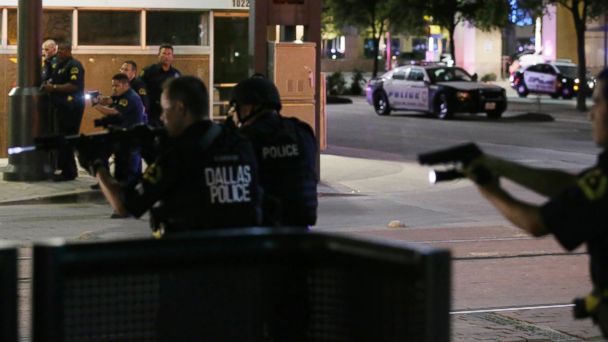 Five officers in Dallas have been shot dead during a street protest against police violence on Thursday night. Here's the latest:
As night falls Friday, "Black Lives Matter" protesters are demonstrating across country
Police name suspect. He was Micah Xavier Johnson
President Barack Obama will come to Dallas next week
Police find bomb-making material at gunman's home
Follow our live updates below.
No arrests so far at Atlanta protest
Atlanta Police Chief George Turner says there have been no arrests so far in the city's protests Friday night.
Atlanta Mayor: Each generation makes their demands
Mayor Kasim Reed, who attended the march, told CNN's Don Lemon that peaceful protesters in the city are practicing their First Amendment right, and that young black people today have higher expectations of fair treatment, which is a sign of progress.
"One of the things that is exciting about this protest tonight. Our young people have an expectation that they will be treated fairly and justly … Every generation makes their demands."
"Their tolerance level is much different to perhaps my parents' generation or their parents generation." he added.
Reed said that while his father instructed him to go out of his way to be deferential and compliant in any encounters with police, "this generation has a different expectation."
"My dad grilled into me the lesson of driving a vehicle as as black man. Keep your hands on the steering wheel. Look forward and say, 'yes sir' or 'ma'am' to the police officer. Place your wallet in the seat beside you. Ask for permission to do anything because he was concerned about me living. He just wanted me to get home safe."
Reed revealed that last year Atlanta law enforcement fired their weapons less than 10 times in 1.6 million interactions.
"We have to respect the 99.9% of law enforcement officials who do good everyday but we have to act decisively when individuals in the law enforcement community do wrong," Reed said.
Read More
Source: CNN
What do you think? Post your thoughts in the comments below.
To Like our facebook fan page click iReporter on Facebook
Join Us on BBM Channel Add Pin or click:
C00224051
Report News as its UNFOLDS via: ireporterng@gmail.com