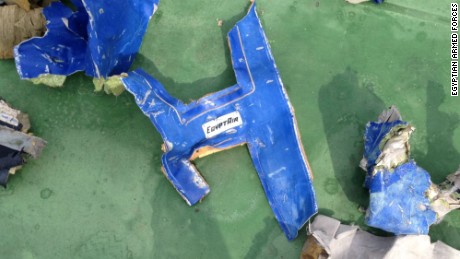 The search for EgyptAir Flight 804 continues, amid contradicting reports about the aircraft's final moments.
Five days after disappearing en route from Paris to Cairo, some debris from the plane -- including life vests, personal belongings and parts of wreckage -- has been recovered.
Small fragments of human remains have also been found, and officials in the Egyptian capital are trying to identify and match them to victims. Families of the victims have nearly completed giving DNA samples to help with the grim task, EgyptAir's vice chairman Ahmed Adel told CNN Tuesday.
But it remains too early to determine from examining the remains whether or not there was an explosion on the flight, an official at the morgue told CNN.
Adel said that media reports suggesting otherwise were "all speculation."
"Any high velocity impact leads to defragmentations, and this is not indicative of what caused the accident," he said.
"Let's not jump to conclusions."
The search continues for the plane's fuselage and the critical black boxes, which are expected to provide vital clues about what happened to the aircraft. Adel said EgyptAir had no information about the location of the fuselage, and that the multinational search team was focusing on an area "about the size of Connecticut."
Swerve or no swerve?
At the heart of the confusion over the final moments of the flight are conflicting reports from Greek and Egyptian authorities.
The flight was at 37,000 feet when it lost contact above the Mediterranean, shortly before the aircraft was scheduled to exit Greek airspace and enter Egyptian airspace.
Initially, Greek Defense Minister Panos Kammenos said that, upon entering Egyptian airspace, the aircraft swerved "90 degrees left and then 360 degrees" before plunging dramatically.
Read More
What do you think? Post your thoughts in the comments below.
To Like our facebook fan page click iReporter on Facebook
Join Us on BBM Channel Add Pin or click:
C00224051
Report News as its UNFOLDS via: ireporterng@gmail.com