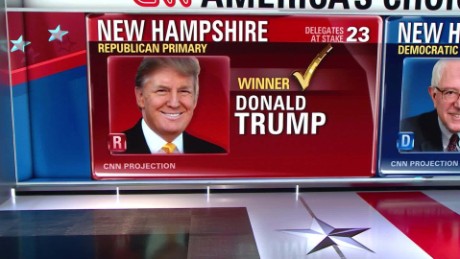 Republican Donald Trump and Democrat Bernie Sanders swept to thumping outsider victories in the New Hampshire primary on Tuesday, seizing on the fury of grass-roots voters to rock the elites who control American politics.

Ohio Gov. John Kasich, whose aspirational conservative message contrasts with Trump's populist rhetoric, surged to a surprise second place in the GOP race.

Bernie Sanders is first Jewish candidate to win a primary. Does he care?

But the nation's second presidential contest failed to clarify the battle between establishment candidates. There are doubts about Kasich's viability in more conservative states and ability to raise money. Marco Rubio faces renewed questions about his readiness after a shaky debate performance robbed him of momentum. And Jeb Bush, the one-time front-runner, did just enough to survive.

WATCH: Trump describes New Hampshire victory
...Loading
That means the opposition to Trump and Iowa caucuses winner Ted Cruz remains divided.

Huffington Post blasts Trump as 'racist, sexist demagogue'

Trump, a brash businessman and reality TV star who has never run for office, and Sanders, a self-declared democratic socialist, were both seen as long-shot outsiders when they launched their campaigns. Their victories reflect deep bipartisan anger at professional politicians and suggest that both the Democratic and Republican races will now be long, acrimonious struggles that could stretch well into the spring.
Read More On CNNPolitics
To follow us on twitter click @iReporterng
To Like our facebook fan page click iReporter on Facebook
Join Us on BBM Channel Add Pin or click:
C00224051
Report News as its UNFOLDS via:
ireporterng@gmail.com