Christmas is the time of year synonymous with the birth of Jesus, advent and midnight mass. But what's it like for people of other faiths and none?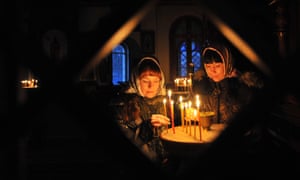 Two sisters light candles during an Orthodox Christmas service in a church in the village of Sokuluk, Kyrgyzstan Photograph: Vyacheslav Oseledko/AFP/Getty Images
What is Christmas? For many it's about families coming together, sharing a meal and exchanging gifts. It's also about going through the Radio Times highlighting the best television programmes to watch and falling asleep on the sofa.
But just as Christians also spend the time preparing for the birth of Jesus what do non-Christians do at Christmas? Whether you're Jewish, Muslim, Buddhist, Sikh or any other religion we'd like to know what you do. If you don't celebrate the festive holiday we'd also like to hear about your experiences. We'll feature some of the most interesting stories on the site.
You can share your experiences via GuardianWitness by clicking on the blue 'Contribute' button on this article. You can also use the Guardian app and search for 'GuardianWitness assignments'.
What do you do at Christmas if you're not a Christian? Share your experiences
To follow us on twitter click @iReporterng
To Like our facebook fan page click iReporter on Facebook
Join Us on BBM Channel Add Pin or click:
C00224051
Report News as its UNFOLDS via:
ireporterng@gmail.com