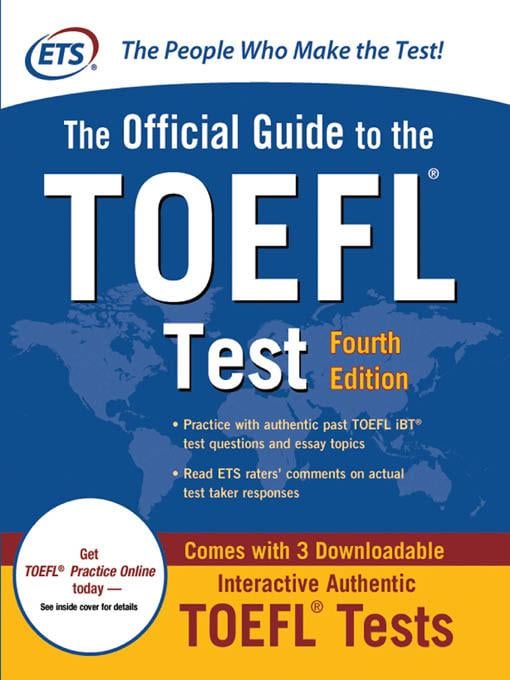 Top 5 TOEFL Practice Test Downloads
As for any other evaluative admission/proficiency test, a large number of preparation materials are available online for TOEFL iBT. These include a wide range of formats like e-books, tips and tricks, write-ups and articles, blog posts, forums, video lectures, practice tests, and sample questions, both free and paid. Downloadable tests and practice questions are quite popular resources, as they can be taken anytime offline at your comfort. However, picking up the authentic and genuine materials from such a multitude is increasingly difficult, but critically important, especially if you are relying only on the online resources. Here is a list of sites where you can download sample tests:
1. The Official ETS TOEFL Site
Educational Testing Services (ETS), the developers of the test, has a bunch of sample questions that you must not miss. These are available for free download at:
http://www.ets.org/toefl/ibt/prepare/sample_questions
. The downloaded file is an executable one, which you need to install on your system. For candidates with different abilities, different formats of the file (like MS Word or PDF) are available for download.
The sample questions follow the pattern and cover all sections of the actual internet-based test. These help you familiarize with the test pattern.
These questions are arranged into four different sections - Reading, Speaking, Writing, and Listening. You can start with any of the sections and proceed in a random order.
You can answer all questions in real-time (including writing samples) and check your answers. However, there is no scoring of your answers involved.
While answering the questions, you can skip questions and come back to them later on, within a section.
2. Eduers
Eduers.com is a web space providing links, resources and information on a number of evaluative and admission tests like GRE, GMAT, MCAT, and TOEFL. The TOEFL section of this site (
http://www.eduers.com/toeflibt/practicetests.htm
) provides a number of useful links and resources on practice materials, online tests, sample questions and exercises and a free downloadable model test. The
PDF file that is available can be saved on to your system to be accessed anytime that you want
. (
http://www.eduers.com/toeflibt/TOEFL_Sample_Test.pdf
).
The PDF sample test paper includes questions similar to those in the TOEFL PBT test– covering the areas of Listening Comprehension, Structure and Written Expression, and Reading Comprehension.
An answer key is provided with the test paper.
3. TOEFLSkill
This is a website dedicated to practice and provides a number of resources and links on the paper based test. The site has 2 to 3 paper-based files that can be saved to your system as PDF files (
http://www.toeflskill.com/2011/03/toefl-practice-test-2-complete-test.html
).
The sample test paper includes a variety of question types covering the areas of Listening Comprehension, Reading Comprehension, and Structure and Written Expression.
An answer key is included in each of the practice test papers. Answer keys can be downloaded separately as well.
4. i-Courses
i-Courses (
http://i-courses.org/
) is a web space focusing on the iBT and has a number of practice tests and materials that can be purchased online. These practice tests simulate the real one in all aspects of content, question types and scoring. The free sample test that can be accessed from the i-Courses website is split into four parts - representing the four tasks of writing, speaking, listening and reading as in the actual exam.
You need to register before accessing the sample files.
All sections of the sample test include only a limited number of tasks, as against the full-version, which needs to be purchased.
The Reading and Listening sample tests are scored, while the others are not evaluated.
5. Syiah Kuala University Language Center Website
The University Language Center website (
http://pusatbahasa.org/pb/toefl_sample.html
) has a number of resources for English proficiency test-takers, including links, practice materials, and sample test files. The PDF files can be saved to your system for offline access and practicing.
Sample test papers focus on individual sections of the actual exam like Listening, Structure and Written Expression and Reading.
The questions are aptly designed for beginners so that they can start their practice with less-difficult questions samples.
Samples contain all types of questions used in the TOEFL ITP (Institutional version of the exam).
This is not an exhaustive list of online resources for the test. You might find a lot more websites for test download as well practicing online. For example, many file sharing sites claim to have several practice tests available for download. You might also want to check out other non-electronic practice papers and question banks.
Download the TOEFL pdf
Follow us on twitter
@iReporterng
or click here
iReporterng
and also Like our facebook fan page
iReporterng
or click here
iReporter Network on FB
BBM Channel Pin:
C00224051
Report News as its UNFOLDS via: ireporterng@gmail.com