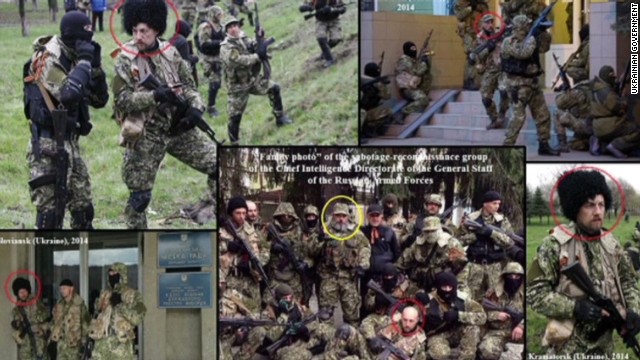 As the crisis in Ukraine shows no signs of easing, U.S. Vice President Joe Biden promised support for Ukraine and stressed that the United States won't recognize Russia's annexation of Crimea.
"Ukraine is and must remain one country," he said in Kiev on Tuesday at a news conference with Prime Minister Arseniy Yatsenyuk. Biden also met with acting President Oleksandr Turchynov and lawmakers during his trip to Ukraine.
"No nation has the right to simply grab land from another nation," Biden said. "We will never recognize Russia's illegal occupation of Crimea."
Biden called on Russia to "stop supporting men hiding behind masks and unmarked uniforms sowing unrest in eastern Ukraine." He warned of additional sanctions if such "provocative behavior" does not end.
Ukrainian and U.S. officials say they think Russian special forces are in the region and are behind efforts to seize government buildings and generally promote unrest.
The U.S. vice president promised financial support, assistance in reducing Ukraine's dependence on Russian energy sources and nonlethal aid for security forces.
"You will not walk this road alone. We will walk it with you," Biden told Yatsenyuk.
As he spoke, the White House announced a new $50 million package of assistance to help Ukraine pursue political and economic reform and strengthen its partnership with the United States.
Biden also said he expects an International Monetary Fund package for Ukraine to be finalized imminently.
The backing is likely to sit well with Ukrainian leaders struggling to keep their country afloat amid dire financial problems, the ongoing showdown with Russia over its annexation of Crimea and alleged interference in Ukraine's pro-Russian east.
Tensions remain high as pro-Russian militants show no sign of leaving occupied government buildings in eastern Ukraine despite an international deal agreed to in Geneva, Switzerland, last week.
'Humiliating threats'
In his meeting with lawmakers and the acting President, Biden again stressed that the United States wants to stand with the people of Ukraine.
Ukraine faces very daunting problems and "some might say humiliating threats," he said in an apparent reference to Russian interference, but success is within its grasp.
"We want to be your partner and friend, we want to assist," Biden said. "We are not suggesting we have all the answers. We are suggesting we stand with you in every endeavor you undertake."
Biden also issued a warning to the leaders in Ukraine, urging them to "fight the cancer of corruption that's endemic" in the country and reform the judicial system.
It won't be easy, he said, but sometimes "a crisis spawns the commitment, and the desire, the willingness to make some of these bold decisions."
About $11.4 million of the new $50 million aid package is destined to support Ukraine's planned May 25 presidential vote, which Biden suggested could be "the most important election in Ukrainian history."
Written by: Laura Smith-Spark and Gul Tuysuz,
CNN